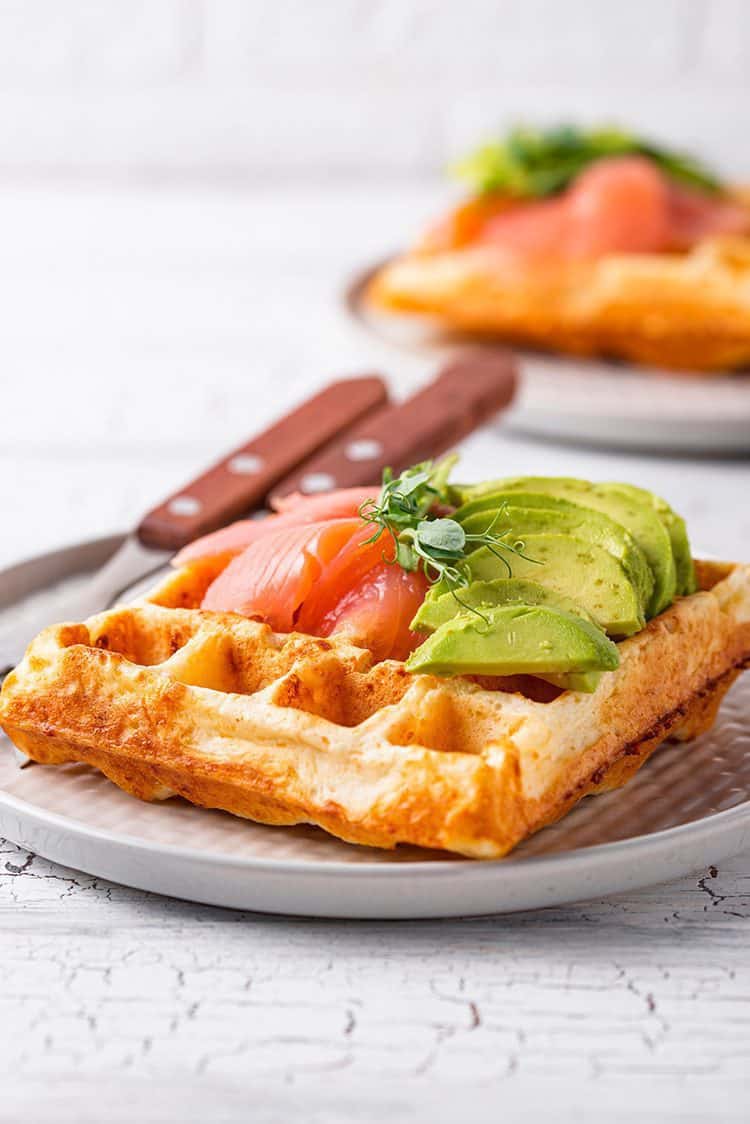 Who said you can't enjoy the deliciousness of a waffle if you're following a Keto or low-carb diet? Actually – you can!Ever heard of the Keto Chaffle?It's a cheese and egg waffle and it's actually even tastier than your regular off-the-menu waffle!The latest low-carb recipe to hit the Keto Diet, the Chaffle is enjoying more than a moment of fame and glory.What's more, this recipe is savory (but can also be sweet) so it makes a fantastic meal option at any time of day!Enjoy it for breakfast, have it for lunch or serve it at dinner, it's incredibly quick to make, really filling and of course, it's flavorsome, great for all the family to indulge in.It couldn't be easier to make, you just need eggs, cheese and some seasoning and nutrition-wise, it's an excellent source of protein and calcium too.So, get your coat on, it's time for a trip to the supermarket!
Easy Keto Chaffle Recipe (Highly Popular Recipe)
Ingredients
1 large Egg
2.3 oz Grated Cheese
Salt & Pepper
Instructions
First, preheat your waffle maker to make sure that it reaches temperature (no one wants a soggy Keto Chaffle!).
Then, crack the egg into a bowl and whisk up the egg so it's blended well and fluffy.
Grate your cheese (or buy a pack of pre-shredded cheese). You can use any cheese you like, they all create a slightly different flavor so experiment.
Blend the cheese with your egg mixture and season with salt, pepper or any other herb you like. Or, add some spring onion and a spoonful of Greek yogurt for an extra-creamy version. If you like something hotter, try adding some tomato salsa or a dash of Worcester sauce for a stronger flavor. Like Italian? Make an Italian version of Keto Chaffle! Simply replace your cheddar cheese for Mozzarella and serve it with a slice of Avocado and some sweet cherry tomatoes. (See below for more Keto Chaffle combinations).
Spray your waffle maker first with a little non-stick oil.
Once your Keto Chaffle mixture is blended well, take half of the amount and spread it evenly onto your waffle maker.
Then, sprinkle the top with a little extra grated cheese – the cheese goes all crispy and this adds to the flavor!
Set your waffle maker for 3 minutes (some people prefer their Keto Chaffle crispier, if this sounds like you then add on one extra minute).
Once it's ready, remove it carefully from your waffle maker and allow it to cool a little.
Use the remaining mixture for your second slice.
Try This "Meal Plan" To Burn Up To 1 Pound Per Day.
If you're like most people, you're at least tickled by the idea of being able to walk around with a lean figure that turns heads wherever you go.Now, I'm not saying this free custom meal plan presentation will sculpt your body into the best shape of your life overnight. It takes time and effort to lose fat and "tone up" your body.But I will say that they've designed this custom meal plan service to help men and women all over the world turn their lives around and take charge of their health and figure.To show how effective the meal plans are, here's what real clients have to say:"As of today I've lost 35 pounds, I have no hunger pangs and mentally I feel sharp as a pin. This is definitely going to become a 'way of life' for me as it's so easy to follow…"All my meals are planned out for me and I even get a downloadable shopping list with all the ingredients I need for the weekly shop so it really is a doddle."
–Katy Thompson, UK
"I'm 4 weeks into my custom keto diet plan and I've lost 14 pounds which I must say is pretty incredible, it's actually amazing watching my body transform into something I am actually proud of rather than something I have always tried to cover up."
–Jessica Grey, US
"I've struggled with my weight my whole life and it's safe to say that I've tried a LOT of diets… The Keto diet is the only one I've managed to stick to and the weight is literally melting off my body."Unlike other diets where I am feeling hungry all day and food is constantly on my mind, the keto diet has completely eliminated this, I actually NEVER feel hungry with this way of eating!"I would definitely recommend anyone struggling to lose weight to try these custom keto meal plans as they really have been a godsend for me."
–Gary Best, Canada
Obviously, they deserve a hearty round of applause for their dedicated effort and results. But that's not why I'm writing you today. I'm writing because YOU can follow in their footsteps, too.You can start right now on your journey to a lean and healthy body, and I want to prove it to you.It's simple:
Click here to claim your 100%-made-for-you keto meal plan designed to help you lose fat, boost energy levels, and improve health.
We'll show you what to eat every day to reach your goals in the fastest and most enjoyable way.In other words, this team have done all the "heavy lifting" for you — from determining your calorie and macro intake, to setting up your meal plan, to outlining meal prep instructions, and more.All you have to do is follow your "paint-by-the-numbers" instructions and reap the rewards.